Shiver me timbers!
I am a great fan of "Talk Like a Pirate Day!"
That was today, and for the record, I don't think I said anything pirate-ish at all, but it is still
so fun
that such a day exists!
On another note, I know that people only like to post the best pictures on their sites. The ones where you look skinny. The ones where you can't see the nose hairs on your husband. The ones where your eyes are not half-closed in that "I am SO STONED, DUDE" look. No one intentionally posts bad pictures unless it is to hurt someones feelings or make fun of someone.
I am going to break that rule and post sort of an unflattering picture. I couldn't resist, but please be aware that
there will soon be cuteness to follow
.
In honor of
Talk Like a Pirate Day
, take a look at my own little pirate. He can't talk yet, so he is celebrating Look Like a Pirate Day.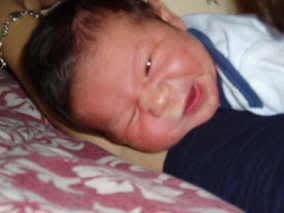 ARRRR, Matey!!!!!!